Note: This guide is based on a simple pilot logbook configuration where hours are logged in decimal format, block times are disabled and no crew roles are enabled.
Web interface
To enter a new logbook entry click the "+ LOG ENTRY" button. A pop up will be displayed showing the basic elements required to make a logbook entry. These elements are the minimum requirements for a compliant logbook entry and must be filled in before a logbook entry can be saved.
Log date – the date that the flight took place
Rego – the registration marking of the aircraft the flight was conducted in
Aircraft type – the type of aircraft the flight was conducted in
Pilot in command – the person who acted as the pilot in command for the duration of the flight
Other crew – the name of any other person who crewed the flight
Description – a description of the flight that was undertaken
Note: When you enter an aircraft registration and type, lockr.aero will remember this combination for future entries. Once you select a rego in new logbook entries subsequent to the first use of that rego, we will automatically populate the other details for you.
The final table in the logbook entry contains information about the hours flown. In this table you can select whether the flight was single or multi engine, command or dual, etc. Should the flight require more information (e.g. the flight contains day and night hours) you can click the "+ROW" button to add more details.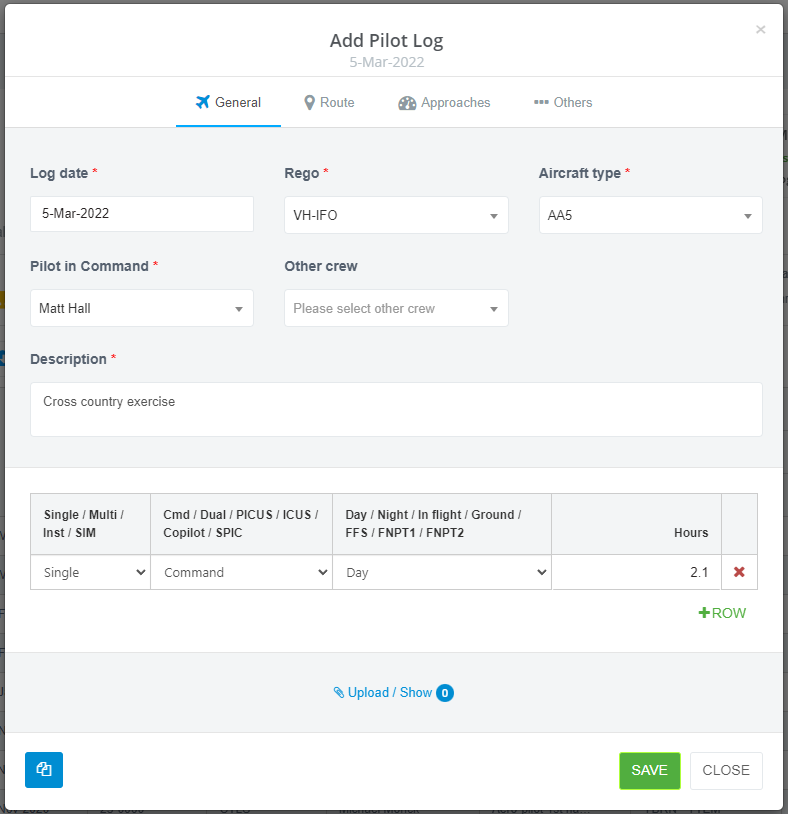 When the minimum information has been entered the system will allow the logbook entry to be saved.
App
To make an entry using the app click the blue "+" button at the bottom right of the screen. For the app interface the same minimum requirements must be met. When the mandatory fields have been filled in the green "+" at the bottom right of the screen will be enabled and the log entry can be saved.