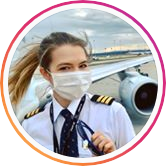 If you teach people to fly then we want to give you a free subscription!
What you need to do
Sign up for a trial account and let us know using the contact form below. You'll then have to answer a couple of questions.
What we will do
We will get you set you up with a premium account free of charge until your next instructor renewal is due.
Pricing
Flying can be complex, our plans aren't. Simple plans no matter how you want to use your logbook.

Make the choice that the Red Bull Air Race World Champion did
1 pilot logbook or 1 aircraft logbook, you choose

First 250 hours free, 25 hours per year free thereafter

No reporting tab or visual logbook

No qualifications tab

No filtering on type/class/operation
Any combination of pilots and aircraft up to 4 logbook(s)

Maximum of 50 hours total across all logbooks annually

Reporting tab with visual logbook

Qualifications tab

Filtering on type/class/operation
Any combination of pilots and aircraft up to 4 logbook(s)

Maximum of 100 hours total across all logbooks annually

Reporting tab with visual logbook

Qualifications tab

Filtering on type/class/operation
Any combination of pilots and aircraft up to 4 logbook(s)

Maximum of 650 hours total across all logbooks annually

Reporting tab with visual logbook

Qualifications tab

Filtering on type/class/operation
CONTACT
We would love to hear from you
OR CALL US
1300 GOAERO (1300 462376)

Copyright © 2020 Lockr Life Pty Ltd (ABN 48 602 286 448) All rights reserved.
Lvl 10 Canberra House, 40 Marcus Clarke St, Canberra ACT 2601