Note: Components, engines and propellers need to be added using a web browser, they cannot be added via the app.
The process for adding engines and propellers is identical. The instructions below are written for the engine tab, however, they apply to propellers as well. Simply substitute propeller for engine in these instructions when adding a propeller.
Click the "Engine" tab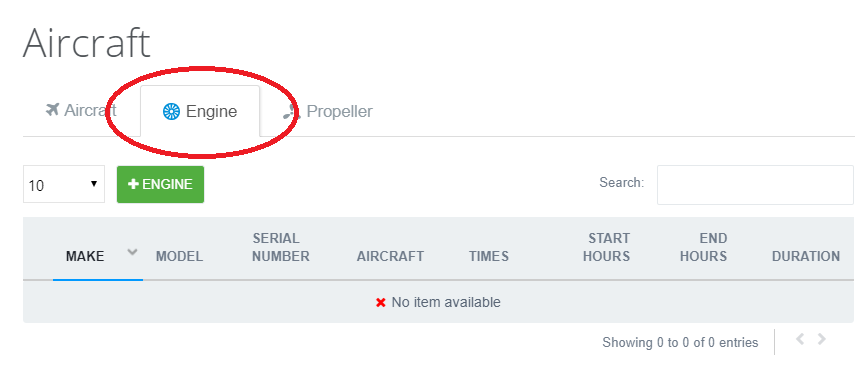 Click the '+ ADD ENGINE' button
Complete all the details for your engine.
Make – the manufacturer of your engine
Model – the model of your engine
Serial number – the serial number of your engine
Aircraft – which aircraft your engine is installed in
Times calculated on – this field will show the times that you set up in the aircraft and will be used to calculate the hours on the engine. For example, if you set up a Tacho in the aircraft then you can select it in this list and your engine hours will be tallied using this
Start Date and End Date – all hours accumulated on the relevant aircraft/timer combination that have been selected will be applied to the engine between the start and end dates selected here.
Start hours – the number of hours accumulated on the engine prior to this logbook being started
Click the "Save Engine" button.
Your engine has been created.
To add a propeller or component, use this same process but start in the relevant tab.