How do I get started?
Congratulations on joining the Lockr.aero community – your electronic pilot and aircraft log book solution – together we are making "no paper planes".
To set yourself up for the first time you will need access to a computer or laptop or another device with a full featured web browser. This is so we can create our pilot log book(s) and aircraft log book(s). Once you have set this up, you can download the Android or iOS app on your preferred device to log all your flights, no need to return to a computer or laptop unless you want to!
How do I add a pilot?
Note: Pilots need to be added using a web browser, they cannot be added via the app.
Under FLYING DETAILS – Select/Click on the Pilots menu item.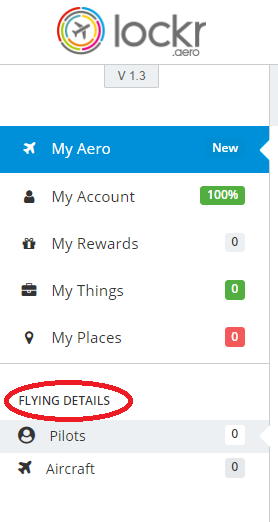 Select/Click on the "+ADD PILOT" button.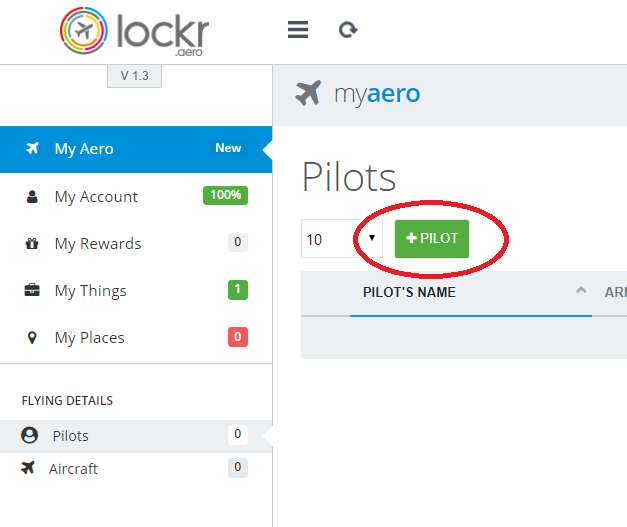 Enter in the pilot details that are prompted and select/Click the "Save Pilot" button.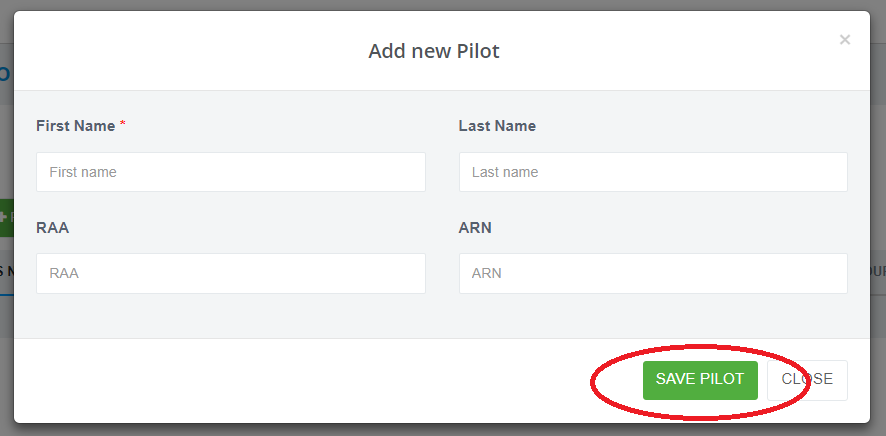 When you have saved your new pilot, the number of pilots in the left hand menu will increment by by one.
You have now finished adding a new pilot.
How do I add an aircraft?
Note: Aircraft need to be added using a web browser, they cannot be added via the app.
Under FLYING DETAILS – Select/Click on the Aircraft menu item.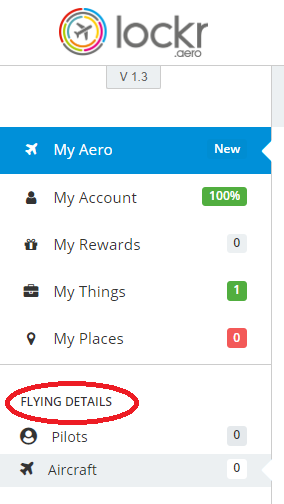 On the right hand side there are three tabs: Aircraft, Engine, and Propeller.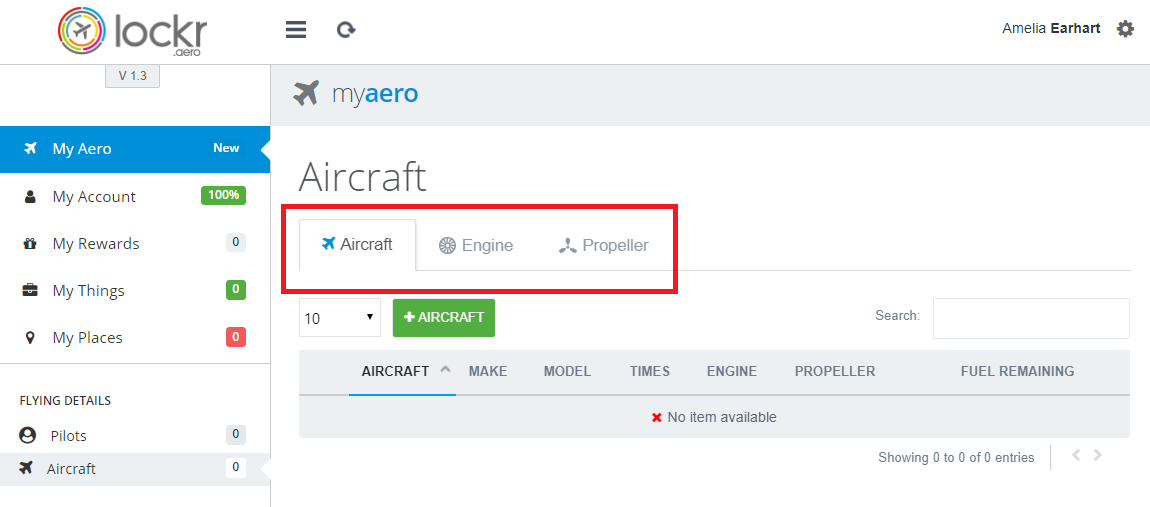 If you are not already on the Aircraft tab Select/Click the Aircraft tab, and then select/click the  '+Aircraft' button
Under the heading "Add new Aircraft" you will see there are three menu items: Basic, Fields and Features. Some items on the "Basic" and "Fields" tab are mandatory while the items in the "Features" tab are optional.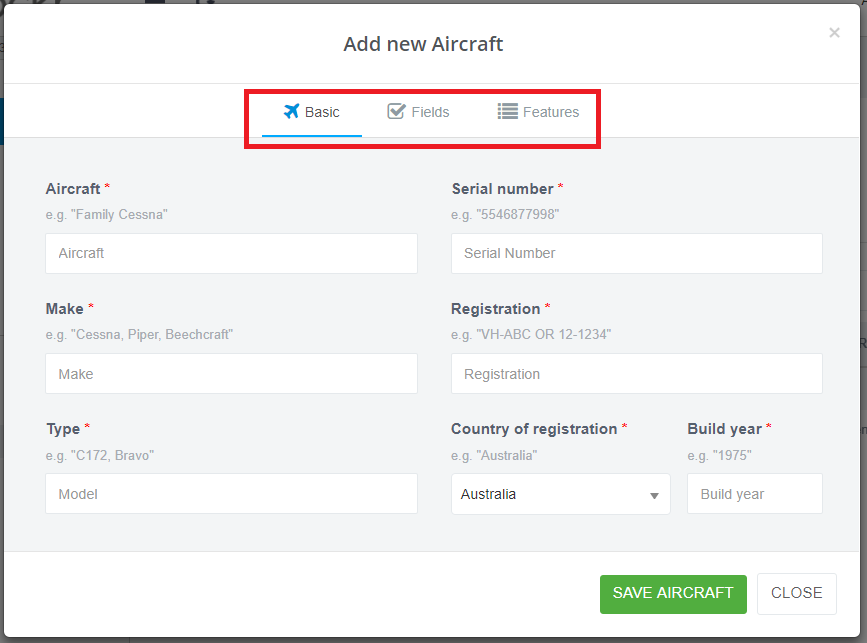 First step: complete the Basic details for your aircraft. Be sure to enter values into all fields marked with a red star (*) or you won't be able to save the aircraft.
Next select/click the Fields menu item underneath the heading "add new Aircraft".
On this screen, there are three sections: Times, Mandatory fields and Daily inspection times calculated on.
Some tips/pointers:
Times: is for your aircraft and component hours. You need to choose one at a minimum but can choose more.
Set these times to the same value as the timers in your aircraft when you plan to start this logbook.
These times will also be used to calculate hours for your engine and propeller.
Mandatory fields: if one or more of these are selected, you will be prompted for these fields when you complete your aircraft log book. If none of these are selected then these items will be optional and you will not be prompted to enter them in. If you change your mind in the future you can come back to this screen and select/click the option(s) you want.
Daily inspection times calculated on: this is the timer that you wish to use when recording daily inspections.
Finally select/click the Features menu item.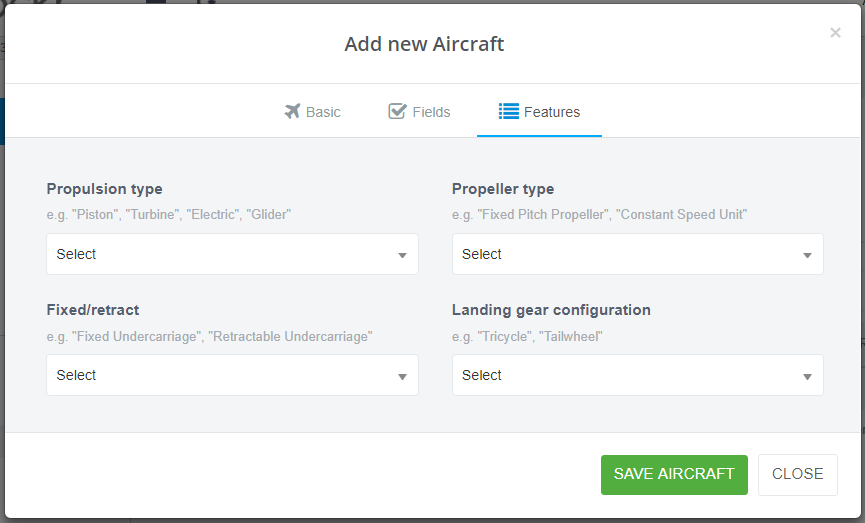 On this screen you can select the design features that you want to record for each flight that you take with this aircraft.
Before you leave, don't forget to select/click on the Save Aircraft button.
Your aircraft has now been created!
Can I add an engine or propeller?
Note: Engines and propellers need to be added using a web browser, they cannot be added via the app.
The process for adding engines and propellers is identical. The instructions below are written for the engine tab, however, they apply to propellers as well. Simply substitute propeller for engine in these instructions when adding a propeller.
Select/Click the Engine tab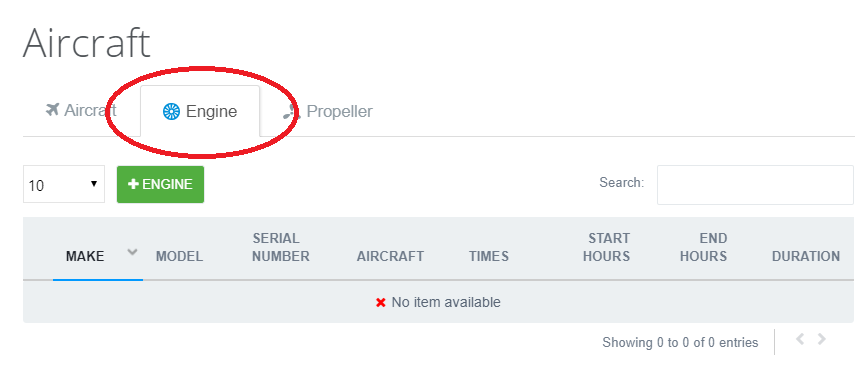 Select/Click the '+ ADD ENGINE' button
Complete all the details for your engine.
Some tips/pointers:
Aircraft – this is a drop down menu and represents the aircraft that the engine is installed in. You will be able to select from the Aircraft that you have created
Times calculated on: this field will show the times that you set up in the aircraft (see above) and will be used to calculate the hours on the engine. For example, if you set up a Tacho in the aircraft then you can select it in this list and your engine hours will be tallied using this.
Start Date and End Date: all hours accumulated on the relevant aircraft/timer combination that have been selected will be applied to the engine between the start and end dates selected here.
Start hours: this is the number of hours accumulated on the engine prior to this logbook being started.
Select/Click the 'Save Engine' button.
Your engine has been created.
Does lockr.aero have an affiliate program?
Yes, if you are a school, club, aviation organisation or other body that is interested in working with us to provide lockr.aero to your members or customers then please get in touch with us. We offer substantial discounts and incentive programs for our partners and welcome the opportunity to work with aviation businesses.
Can I use lockr.aero on my mobile device?
Our logbooks are accessible from any internet connected device.
If you have a browser that is up to date then you can login via the website at lockr.aero.
If you prefer to use an app then you can download it from the Google or Apple stores.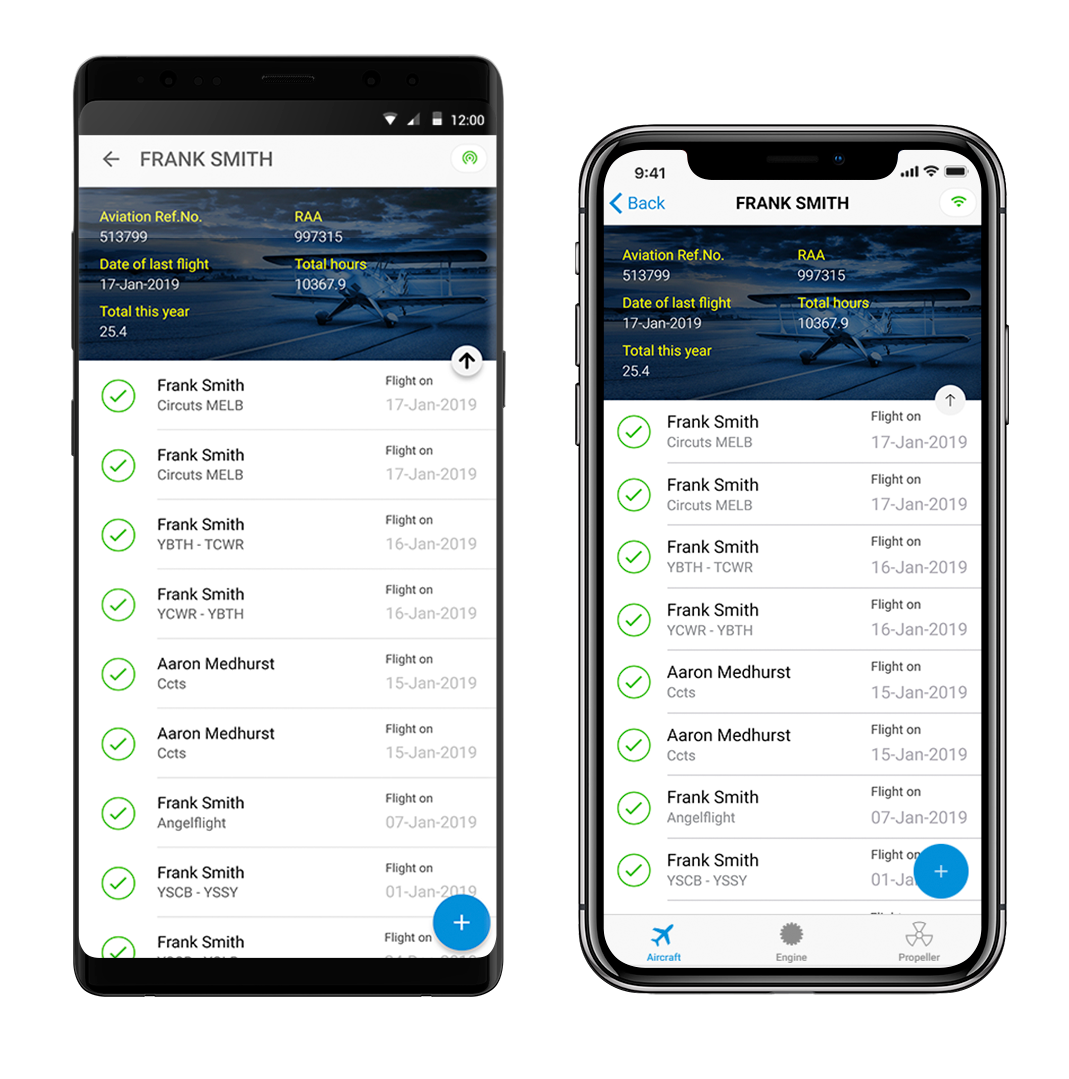 What happens if I let my account lapse?
We understand that from time to time other things may prevent you from flying for a while. If your account lapses and you want to reactivate it then simply drop us an email and let us know. We never delete your data and are always happy for you to pick up where you left off.
Does it matter if I have no internet access?
You will need to have internet access to set up your account but once you are up and running you can use our app offline. It will automatically sync your data once you get internet access again and your information will be available across all devices.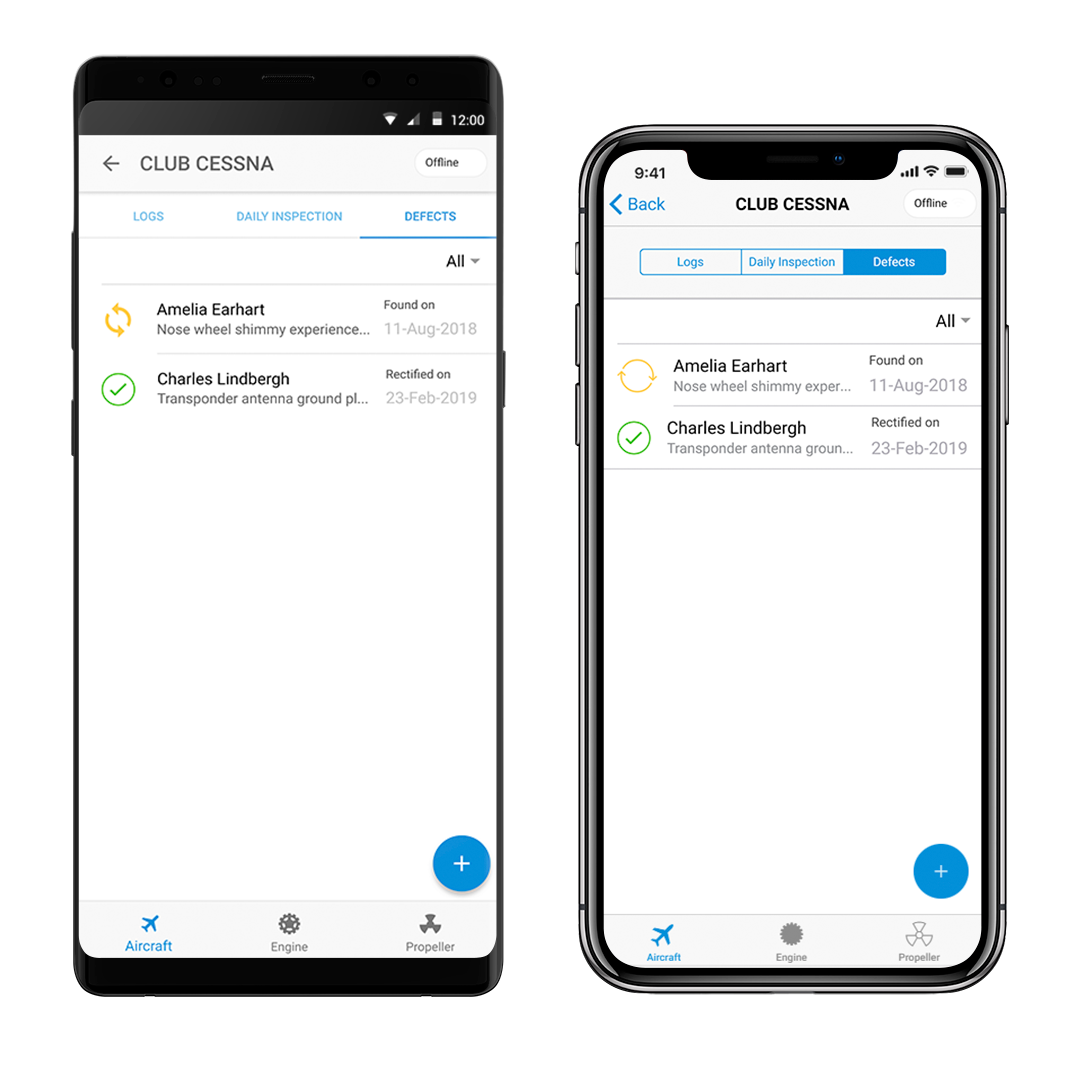 Most electronic logbooks require an Apple device, what if I use Android?
You can use what ever device you like with lockr.aero. We don't believe that your technology choice should be driven by us so we cater to you, not the other way around. You can use any combination of Apple and Android phones and tablets along with any combination of Windows or Mac computers. All of your data is available to you no matter what device you are using or where you are using it.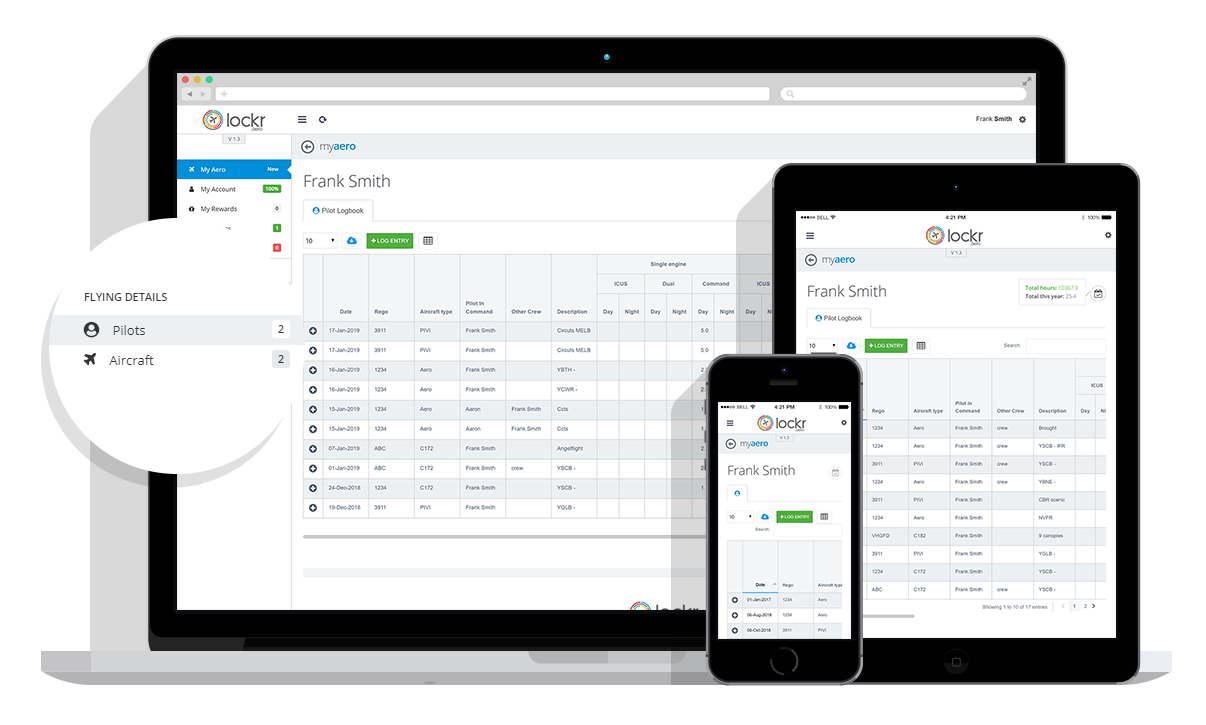 Can I share my aircraft with others so they can use my plane and make entries?
We are working on developing this functionality so you can share your aircraft with friends, family, club members, students and so on. If you sign up today then we will let you know when resource sharing is ready to use.
Can I add multiple engines/propellers to the same aircraft?
Yes, an aircraft may have multiple engines and propellers. When you add a new engine or propeller simply select the aircraft from the list and then nominate how you would like the hours calculated like you would normally. All engines and propellers will then have their times recorded based on the start and end dates you nominate.
What extra information can I log in lockr.aero?
In addition to the standard fields that can be logged in a paper logbook, you can track your time on aircraft with particular features (turbine time, tailwheel, etc.) as well as other requirements that we have built for you.
For example, CASA now requires that community service flights are specifically noted in your logbook. We have made this easy by creating a simple check box to track these flights.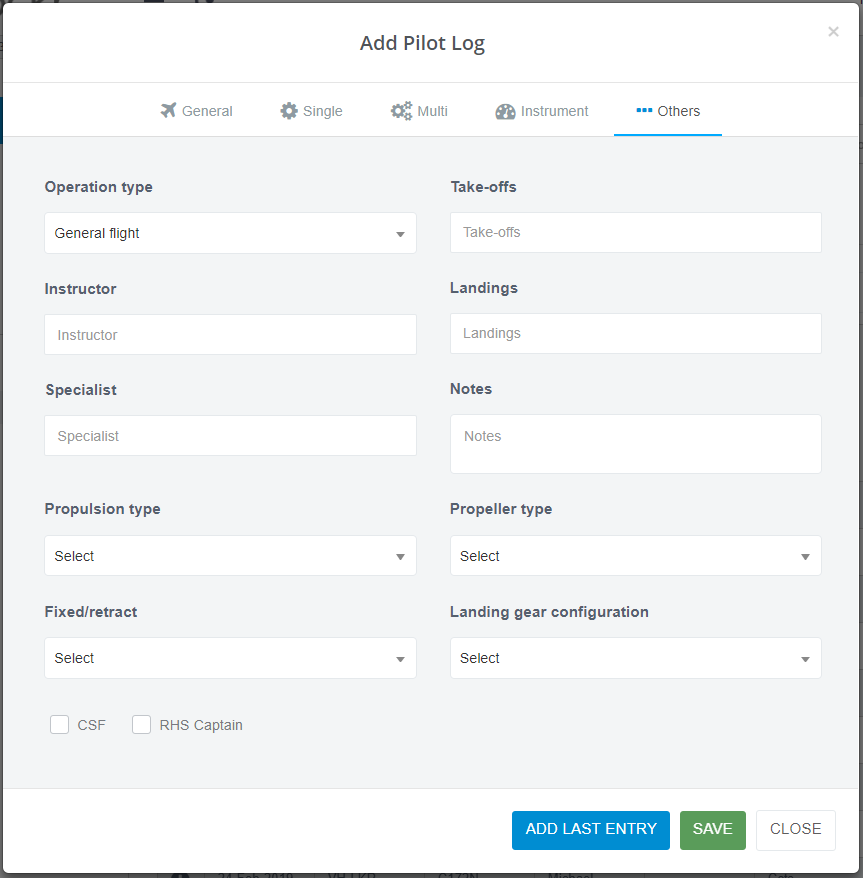 Copyright © 2017 Lockr Life Pty Ltd (ABN 48 602 286 448) All rights reserved.
Lvl 10 Canberra House, 40 Marcus Clarke St, Canberra ACT 2601